Brown Paper Packages
Especially ones that come in the mail from my super-extraordinary
secret pal
.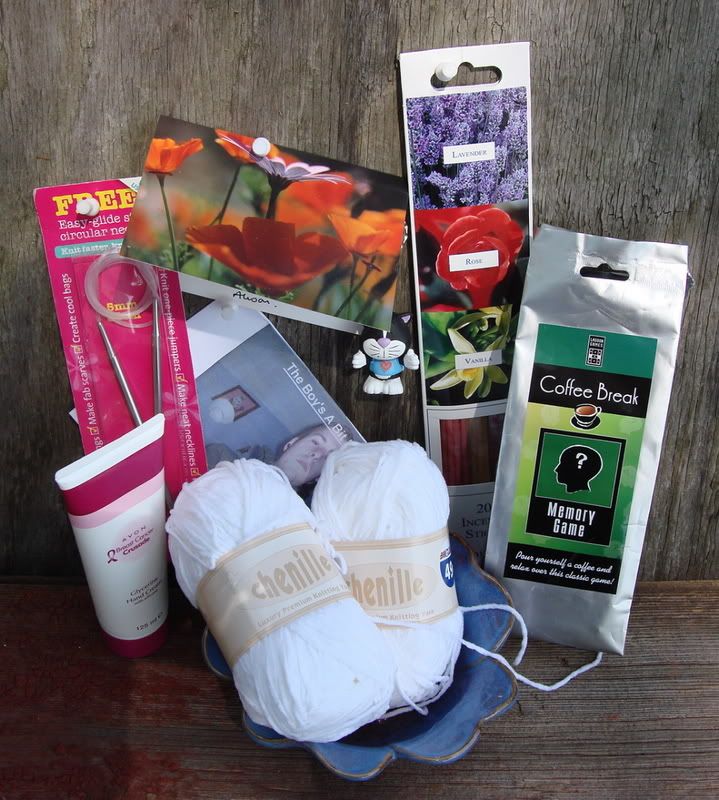 Look at all the goodies:
~ Two skeins of super-soft chenille
~ Lavender, rose, and vanilla incense
~ Glycerine/silicone hand creme for my hard-working farm-hands - that would be
my
hands, not to be confused with actual hired farmhands; unfortunately I don't have any handsome farm labourers to rub creme on
~ A pair of circular needles - perhaps because I'm crazy about the Addis she sent me previously?
~ A matching memory game - And the tiles are coffee labels, packed in a coffee bag! Mr. O'Kitten and I played it the moment I got it; we both enjoy concentration games and I loved the matching game as a kid. (Plus, he's excited that he can beat me at this one, I've been beating him shamelessly at
Boggle
lately.)
~ A CD of her son's DJ set from a nightclub in Somerset that I haven't listened to yet because I've been running around all day, but I'm so excited.
~ And finally - An obsidian kitten keychain (at center of photo)
*Happy dance happy dance happy dance*